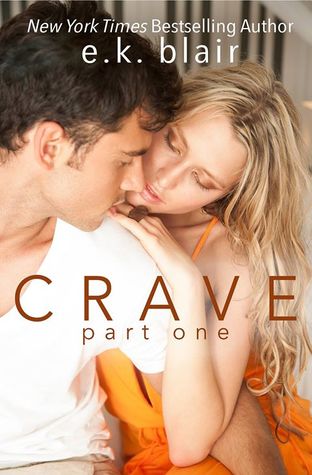 [BLURB]
From, New York Times bestselling author, E.K. Blair, comes a breathtaking romance that will leave you captivated far past the last word.
Kason and Adaline.
From the moment they met, they started to fall. Neither of them predicted just how far the drop would be, though.
Loving Adaline was all Kason had ever wanted to do. But layer by layer, he started to unravel, forcing Adaline to face an addiction she never could've imagined.
This is what happens when one person loves beyond the craving and the other craves beyond the loving.
[MY THOUGHTS]
4.5 out of 5 stars
Crave is story that burns slowly into your heart. It contains characters that are perfectly damaged and flawed. Although the plot isn't as dark as E.K. Blair's most recent books, I found it equally addicting, and I couldn't put this book down.
The story starts with Adaline starting a new high school in Florida. She acts brave and confident around everyone, but deep inside she is nervous about making new friends and fitting in. Eventually, she befriends some of the most popular guys in school with her easy Texas attitude and life becomes comfortable. But one guy stands out and she can't stop thinking about him. She wants to figure him out and understand him completely.
Kason has a different life than most of the students in his school. He isn't from a wealthy family and he works extremely hard to save money for his future. He is driven to have a different future and doesn't want any distractions. But Adaline gets under his skin and he can't stop the attraction. He wants and needs her but he has secrets that he is ashamed of.
The relationship between Kason and Adaline is complicated, and things aren't easy for them. Throughout the book, I wanted to scream and yell. I need to get my hands on the next book soon because the ending gave me a giant hangover.