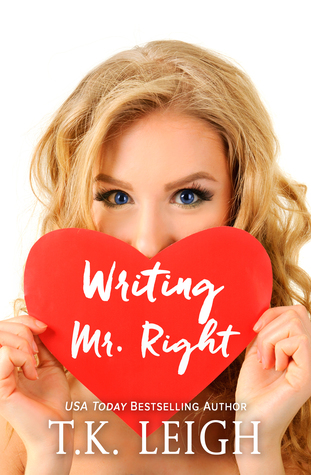 [BLURB]
Recommended for mature readers due to strong language and explicit sexual situations.
My name is Molly Brinks, but most people know me as Vivienne Foxx, bestselling author of chance meetings, stolen glances, and the much-needed happily ever after. My addictions include coffee, home improvement television, and the occasional pint of ice cream. The love of my life is an eighty-pound labrador retriever named Pee Wee.
At the age of twenty-nine-plus-one, I am at the top of my game…professionally. My personal life is a completely different story, one best left untold. Success has its sacrifices and I've been more than happy to put my search for Prince Charming on the back burner while I create fictitious tales of the naïve virgin, the broken girl with a torrid past, and the strong-willed student finding their own Mr. Right…
Until one hell of a case of writer's block and a tight deadline set by my publisher forces me outside my cozy downtown Boston apartment in search of inspiration.
Armed with an account on every dating website out there, I devise a plan. Meet some nice, professional men. Go on a few dates. Hope one of them has the spark I need to finish my book. Then walk away.
But plans are meant to be broken.
My name is Molly Brinks, and this is my story about Writing Mr. Right.
[MY THOUGHTS]
4.5 out of 5 stars
As a T.K. Leigh virgin, I didn't know what to expect.
Now that I've finished this book, I'm sooooo happy that I got a chance to read this. It's cute, funny, and meaningful. I couldn't put this down.
Molly is a romance author that has the case of writer's block. Her temporary male muses usually do the trick, but she's tired of writing the same books. She wants to write more than just steamy sex scenes.
Although her novels are filled with romance, she personally doesn't believe in true love. But fate introduces her to an irresistible doctor.
"Maybe I had been subconsciously waiting to find a man who would treat me the way a woman deserved to be treated... like a queen in public and a goddess in private."
Noah is a handsome doctor that understands Molly's quirks and jokes. He's the perfect match for Molly. He tries to just be friends with her, but he can't fight the irresistible pull towards her.
I absolutely loved the build up between the characters. I couldn't get enough of their funny comments, cheesy jokes, and hot chemistry. T.K. Leigh knows how to properly use meaningful sex scenes.
I also loved the side characters, and I can't wait to read more about them. The only thing that bothered me was Molly's reaction towards the end, but overall I really enjoyed this book. This is definitely a story that I'd read again.