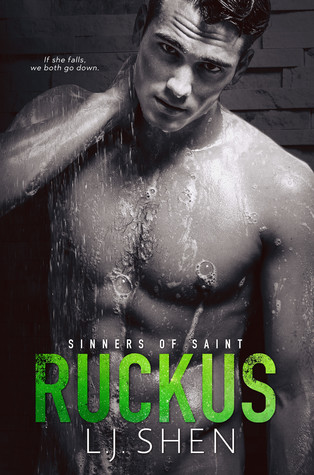 [BLURB]
Rosie
They say that life is a beautiful lie and death a painful truth. They're right.
No one has ever made me feel more alive than the guy who serves as a constant reminder that my clock is ticking.
He is my forbidden, shiny apple.
The striking fallacy to my blunt, raw, truth.
He is also my sister's ex-boyfriend.
One thing you should know before you judge me;
I saw him first. I craved him first. I loved him first.
Eleven years later, he waltzed into my life, demanding a second chance.
Dean Cole wants to be my bronze horseman. My white knight has finally arrived. Hopefully, he isn't too late.
Dean
They say the brightest stars burn out the fastest. They're right.
She sets my mind on fire.
All smart mouth, snarky attitude and a huge heart.
In a world where everything is dull, she shines like fucking Sirius.
Eleven years ago, fate tore us apart.
This time, I dare it to try.
Getting to her is a battlefield, but man, that's why they call me Ruckus.
Rosie LeBlanc is about to find out how hard I can fight.
And conquering her will be the sweetest victory.
[MY THOUGHTS]
4 out of 5 stars
Can be read as a standalone.
Ruckus can be read as a standalone, but I highly recommend reading at least Vicious before opening this baby up.
The story is about Dean and Rosie. They've always had chemistry since high school, but the timing was always wrong. He didn't want to date Rosie's sister, but he was pushed into the relationship. And he also agreed to date her so that he could protect her sister from Vicious.
Although he was dating the wrong sister, his head and heart was always focused on Rosie. But she had her own reasons why they could never be together.
There's a lot of pain and bitterness throughout the book because life just hasn't been fair for either of them. And sometimes I wanted to just slap the characters to just listen!
But.... I'm going to be honest.... I had a hard time getting through the first half of the book. It might of been because Dean and Vicious are just so similar... it's hard not to compare them. (Vicious has my heart by the way *cough*)
And there were also some moments I felt uncomfortable when Dean had his eyes on Rosie when he was with her sister.
Overall, the story was solid with some great twists! Once I reached the halfway point, I started to really get into the storyline. Some tears were even shed. Unfortunately, I was slightly disappointed by the ending... but I still enjoyed the ride.
The next book will be about Trent, and I can't wait to read about the sexy single dad!