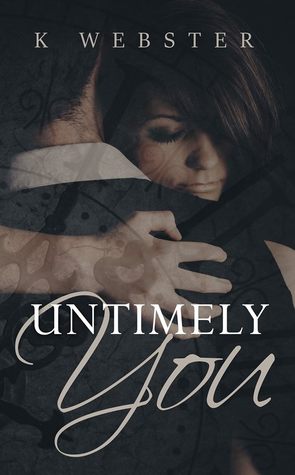 [BLURB]
He can't love her. It simply won't work. Besides, he's already bound to the prison he created. A life that owns him.
She craves to help him. She'll make it work. His secrets test the limits of her sanity and morals. Yet he owns her.
The chains will break free.
The demon will be released.
And he'll be hungry for...her.
Will their untimely love overcome the past and create a living, breathing future?
Perhaps.
Or, they might just go crazy...
***This book is a contemporary romance standalone.***
[MY THOUGHTS]
5 out of 5 Stars
Untimely You is so different from K. Webster's other works. Although it's not a dark book, it felt like an emotional roller coaster. My heart was cracking with each chapter.
Neesy hopes to have her own publishing company, but she needs a loan. Unfortunately, her loan won't get approved because her work history is too short. Her current job is crucial to her dreams.
She's cute, funny, clumsy, and forgiving. When her boss notices her being compassionate to others, he offers her a new job with a raise.
Neesy thinks her new job involves being Adrian's new sex toy, but her sexual fantasy is squished. The job is something Neesy never expected.
Adrian is a man with a painful past. He blames himself and chooses to suffer alone. He's always moody and angry, but Neesy gets under his skin.
The story was so much more than what I was expecting. I almost cried a couple times. I fell in love with all the characters. It sucks to say goodbye, so I'm going to reread this soon. Hands down- Untimely You is my favorite book by K. Webster.