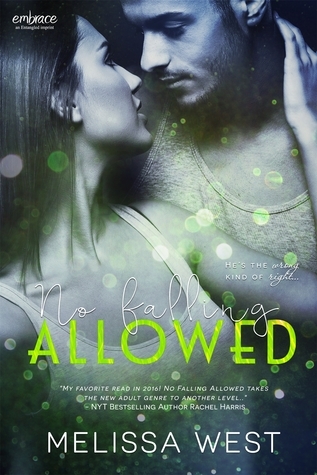 [BLURB]
My life just went South…
Twenty-four hours. That's how long it took my life to flip upside down.
Wake up in bed alone after the best night of my life? Check.
Get fired instead of the promised promotion? Check.
Wealthy parents cut me off when I refuse to follow their path for my life? Check.
Now I'm in Cricket Creek, SC—a place where no New Yorker belongs—disowned and broke, with a new job that I can't mess up. Oh yeah, and staring at my one-night stand, who happens to be the complete opposite of my type.
Southern.
Cocky.
Bartender.
Noah Hunter never should have made it back to my apartment in NYC, and I definitely shouldn't be in his small town. But fate had another plan. Or a horrible sense of humor.
Who knew Mr. Wrong could feel so right…
[MY THOUGHTS]
4 out of 5 Stars
Can be read as a standalone.
No Falling Allowed is a quick sweet read. Although you'll see some of the characters from Book 1, this can be read as a standalone.
Grace Soaring is a woman that just wants to be seen as a normal person. Some people feel nervous and intimidated around her because she is the daughter of one of the richest men alive. Think of her as Bill Gate's daughter.
When Noah visits NYC to take a break from life, he flirts and challenges Grace. He doesn't know who she is. He just see's a beautiful woman that knows what she wants.
They have one beautiful night together, but he needs to go back to his country town. Cricket Creek.
Grace's parents doesn't see the point of her being an event planner. They call it a hobby. This leads to her getting cutoff from her elite credit cards and full bank accounts, which also drives her to work harder.
When she gets a job to plan a wedding, she ends up in the same town as Noah. Sparks fly, but can they have to overcome their differences?
I really enjoyed this story, and I can't wait for the next book.