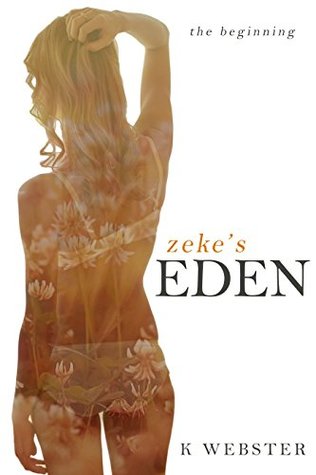 [BLURB]
Following Daddy's rules has always been easy.
Smile. Nod. Repeat.
Until I met Zeke.
Dark. Dirty. Sinner.
A hungry beast, released from his cage.
And I'm on the menu.
Tonight, I'm Zeke's Eden.
His sugar.
His whore.
Daddy's little girl is all grown up…
***Warning: This is an erotic novella.***
[MY THOUGHTS]
"Tonight I'm not Daddy's little girl. I'm not Parker's perfect girlfriend. Tonight, I'm Zeke's Eden. His sugar. His whore."
Oh.... my..... K. Webster did it again. Zeke's Eden is SCORCHING hot! The attraction between Zeke and Eden is instant, which leaves lots of room for sexy love scenes that'll get you sweaty.
Eden is the daughter of a very popular pastor. She always follows the rules and does whatever her daddy tells her. She even has a boyfriend picked out for her. All she wants in life is to feel something. So one night she goes to a bar in a disguise to cut loose.
Zeke just got out of prison and is working as a bartender. He claims Eden as soon as he sees her. He's dominant, possessive, and is the sexiest book boyfriend. I can't wait for the next book in this series. I think I'm drooling right now....
Yup... I'm drooling.