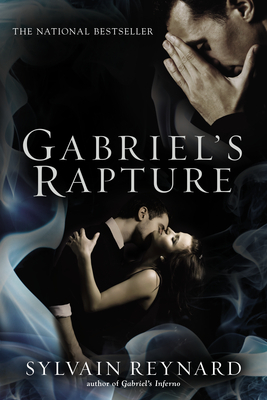 [MY THOUGHTS]
This series made me want to read some of Dante's works, but it was a failed attempt. I'll just leave it to Sylvain Reynard.
I loved this series. It's erotic, dramatic, and intense. You might need a fan while you're reading this.
[BLURB]
Gabriel's Inferno
Enigmatic and sexy, Professor Gabriel Emerson is a well respected Dante specialist by day, but by night he devotes himself to an uninhibited life of pleasure. He uses his notorious good looks and sophisticated charm to gratify his every whim, but is secretly tortured by his dark past and consumed by the profound belief that he is beyond all hope of redemption.
When the sweet and innocent Julia Mitchell enrolls as his graduate student, his attraction and mysterious connection to her not only jeopardizes his career, but sends him on a journey in which his past and his present collide.
An intriguing and sinful exploration of seduction, forbidden love and redemption, "Gabriel's Inferno" is a captivating and wildly passionate tale of one man's escape from his own personal hell as he tries to earn the impossible...forgiveness and love.
Gabriel's Rapture
Professor Gabriel Emerson has embarked on a passionate, yet clandestine affair with his former student, Julia Mitchell. Sequestered on a romantic holiday in Italy, he tutors her in the sensual delights of the body and the raptures of sex. But when they return, their happiness is threatened by conspiring students, academic politics, and a jealous ex-lover. When Gabriel is confronted by the university administration, will he succumb to Dante's fate? Or will he fight to keep Julia, his Beatrice, forever? In Gabriel's Rapture, the brilliant sequel to the wildly successful debut novel, Gabriel's Inferno, Sylvain Reynard weaves an exquisite love story that will touch the reader's mind, body, and soul, forever.
Gabriel's Redemption
Professor Gabriel Emerson has left his position at the University of Toronto to embark on a new life with his beloved Julianne. Together, he's confident that they can face any challenge. And he's eager to become a father.
But Julianne's graduate program threatens Gabriel's plans, as the pressures of being a student become all consuming. When she is given the honor of presenting an academic lecture at Oxford, Gabriel is forced to confront her about the subject of her presentation – research that conflicts with his own. And in Oxford, several individuals from their past appear, including an old nemesis intent on humiliating Julia and exposing one of Gabriel's darkest secrets.
In an effort to confront his remaining demons, Gabriel begins a quest to discover more about his biological parents, beginning a chain of events that has startling repercussions for himself, Julianne, and his hope of having a family.